Training local builders in woodless construction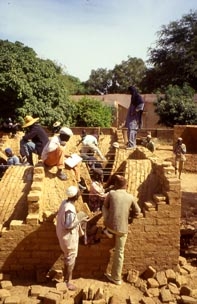 Skills for a better environment
DW's main activities in Sahel and today principally in Burkina Faso have focussed on training and assistance to both men and women. The programme for training beginner builders to learn woodless construction is now in use by DW for over 15 years and follows a well tested curriculum, written in the Trainers Woodless Construction Training Guide. All training is done by local builders who have also been trzined by DW. The training divides the process into two parts.
            Part one, lasting three weeks, combines discussion of the theory and principles of each aspect of the woodless construction building process, with hands-on practice, working on specially designed full-scale training structures or on a layout on the ground. Using training structures means that there is no stigma about getting something wrong, because the work that is done is solely for training purposes. The programme uses four main types of training structure to teach vault building, dome building and arches. All the training structures teach good masonry skills. After the training, some of these structures are integrated into courtyard walls, others taken down and the bricks reused. Training at this stage includes building one or two full scale buildings so that the trainees cover all stages in the building process. A typical training building is the construction of a woodless construction kiln for women potters and a a multi purpose building that the community will use.
            Most trainees acquire woodless construction techniques readily, although not all learn at the same speed, and some of the best builders have taken a while to develop confidence. Paradoxically, learning to build the vaults and the domes is almost the easiest part of the process, because all trainees begin with no previous idea of how to build these roof forms. By contrast, helping builders who have previous experience of wall building have to unlearn the bad masonry habits that abound in West Africa.
            Part two of the training lasts some five weeks - every builder commits to building (and pays for) his own house using the skills he has learnt, from laying out, through to roof construction and the installation of doors and windows. Each new house serves as publicity for the trained masons. DWF provides the door and window, and tow locally made ceramic gutters.
            At the end of the training period, the trainees' performance is assessed and a certificate awarded to successful participants. In the months and sometimes years after initial training, individual masons continue to benefit from support and guidance provided by DW. Wherever possible, refresher courses are offered in later years to upgrade the skills of those who are interested.
In order to increase sustainable skills in the region, enabling the inhabitants to earn a living and to improve their quality of life, DW runs training courses and various forms of assistance on several levels:
 Initial training in woodless construction for rural builders
 Training for woodless construction site supervisors and trainers
 Training in designing woodless construction buildings and drawing plans
 Training in preparing estimates for woodless construction buildings
 Training in setting up non profit associations and economic interest groups (GIE)
 Training female potters in the production of ceramic household products and buildings components
 Training architects, engineers and technicians to use Woodless Construction
These various training programmes are complemented by manuals and 'aide-mémoires' in French and in local languages:
 Guide des formateurs (trainers' manual)
 Guide pratique des maçons CSB (builders' manual)
 Guide pour les devis estimatifs (guidelines for estimating)
 Guide pour le dessin de la CSB (guidelines for drawing Woodless construction plans))
 Guide pour la création des associations et groupement d'intérêt économique (guidelines for setting up associations and economic interest groups)
 Guide pour l'entretien de la CSB (woodless construction maintenance manual)