Partenaires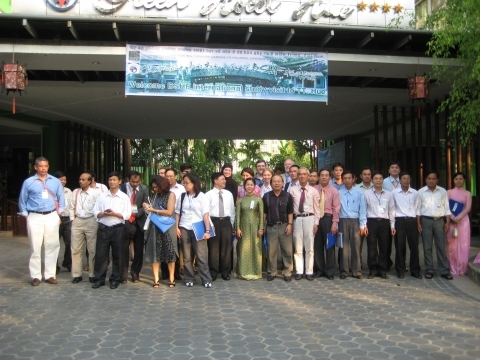 DWF travaille en partenariat avec les habitants des communautés défavorisées, des artisans et constructeurs locaux, des organisations communautaires, les autorités locales avec qui on signe de protocoles de collaboration; les gouvernements décentralisés et nationaux, et des ONG et agences internationales.  
Nos partenaires nous sont essentiels. Ils contribuent à notre capacité d'accroitre l'impacte de nos actions et d'en tirer des leçons. Dans le cadre des lauréats attribués à DWF pour son travail, des partenaires tels le  Building and Social Housing Foundation  ont organisé  en 1998 une visite d'étude dans lé région Sahélienne de l'Afrique Occidentale et encore en 2009  au Vietnam, dans le cadre de l'accord du Prix Mondial de l'Habitat, attribué à DWF deux fois. DWF est la seule ONG ayant reçu le Prix Mondial de l'Habitat deux fois
Les partenaires comprennent :
Acacia Partnership Trust (UK) / Asian Disaster Reduction Response Network (ADRRN) / Asian Disaster Aga Khan Foundation / Aga Khan Trust for Culture / Alternatives, Montreal / Australian Development Aid / Beauchamp International, France & UK / Canadian International Development Agency / Danida (Danish International Development Aid) / Danish Red Cross / Department for International Development (DFID) UK / Development Workshop Angola / Development Workshop Burkina Faso / Euro Action Acord / European Agency for Reconstruction (EAR) / European Commission Office for Humanitarian Aid (ECHO) / European Development Fund / Focus Humanitarian Aid / Fonds Aide Viet Nam – Canada / Ford Foundation / Global Network for Disaster Reduction GNDR / GTZ / Intermediate Technology Development Group & Practical Action / International Labour Organisation / International Union for the Conservation of Nature (IUCN) / Kologh Naba, Burkina faso / Lund University / Lutheran World Relief / One World Action / PAB (Promotion de l'Artisanat Burkinabè) / Raja Foundation / Red Cross in Burkina Faso, Mali, Vietnam & Indonesia/ Save the Children UK / Save the Children in Myanmar / Save the Children US & Haiti / Selseleh Integrated Development Programme (Iran) / SOS Sahel / ti Paalga / UNCHS / UNDP / USAID / US Peace Corps / World Bank / World University Service Canada / Worldwide Fund for Nature.
DWF a un contrat cadre de partenariat avec la Direction Générale de l'Aide Humanitaire et de Protection Civile (ECHO) de la Commission Européenne depuis 2003.